Taiwan Formosa Water Park explosion injures hundreds
Taiwan Formosa Water Park explosion injures hundreds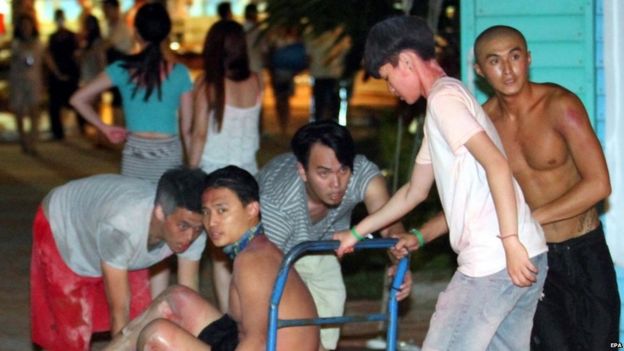 picture from: http://ichef.bbci.co.uk/news/624/cpsprodpb/1274F/production/_83899557_027914286-1.jpg
More than 500 people were injured when fire ripped through crowds at a party at an amusement park outside Taiwan's capital Taipei.
Saturday's incident at the Formosa Water Park is believed to have happened when a coloured powder ignited after being discharged onto the crowd.
Footage showed people panicking and screaming. Inflatable water toys were shown being used as stretchers.
Some 190 people are seriously hurt – 182 are in intensive care.
Some of them breathed in the powder, causing respiratory problems.
Local media said organisers of the Color Play Asia event had been taken in for questioning by prosecutors.
Skin 'gone'
Footage of the incident shows a party in full swing when suddenly fire erupts.
It was "hell", a male student who sustained minor injuries said, according to AFP news agency.
"There was blood everywhere, including in the pool where lots of the injured were soaking themselves for relief from the pain."
His girlfriend added: "I saw lots of people whose skin was gone."
The fire was quickly brought under control, but the cause of the incident is still under investigation.
The authorities believe something that caught fire caused the coloured powder spray or dust – used to create a party atmosphere – to explode.
The substance is also used in other countries. It is made of dried corn and can be highly flammable, our correspondent says.
The 519 victims were sent to 41 hospitals, and 413 are still in hospital, say municipal authorities.
The incident occurred about 20:30 (12:30 GMT). More than 1,000 people were near the stage at the time.
The fire department said: "Our initial understanding is this explosion and fire… was caused by the powder spray. It could have been due to the heat of the lights on the stage".
Soaring temperatures
Many people flocked to water parks on Saturday as temperatures reached 36.6C (98F) in Taipei and as high as 38C in other parts of Taiwan, says the BBC's Cindy Sui in Taipei.
New Taipei City's mayor, Eric Chu, ordered an immediate shutdown of the water park pending an investigation.
Taiwan has suffered a series of deadly fires in the past couple of years due partly to poor enforcement of building and fire safety codes and illegal construction, our correspondent adds.
A fire earlier this year killed six firefighters, prompting orders to rectify illegally constructed buildings and upgrade firefighters' equipment and training.
Reference: http://www.bbc.com/news/world-asia-33300970
https://wppf.org/wp-content/uploads/2016/06/WPPF-LOGO-180x180.jpg
0
0
admin
https://wppf.org/wp-content/uploads/2016/06/WPPF-LOGO-180x180.jpg
admin
2015-07-12 13:17:13
2015-07-12 13:17:13
Taiwan Formosa Water Park explosion injures hundreds